Submission Guidelines
Important Dates
Deadline for Abstract Submission: 11 February, 2017 -> February 28, 2017
How to Write Abstracts
The topic and content of the submitted abstract must be appropriate for poster or oral presentation.
Language: English
Title: A concise title with not exceeding 30 words recommended.
Format:
1. Free paper & Poster :Structured abstract (objective-methods-results-conclcusion)
2. Case report : Free format.
KSSMN 2017 invites participants to share their special experience, "Case report of my unforgettable patients", which will be presented in education session.
This new "Case report" session welcome any interesting case of surgical metabolism and nutrition including even 1 rare patient.
Length of Body: 300 words.
The size of the abstract is limited to 1400 characters. The submission program will not allow submissions that do not fit in the size requirements.
Authors: Do not include degrees or titles.
Contents: Extremely simple result with comment "The result will be discussed soon" will not be accepted.
Modification: Until the deadline for abstract submission.
Withdrawal: Written request by email to the secretariat is accepted.
Note that fax submissions will not be accepted.
How to Submit Abstracts
All abstracts must be submitted through the website.
*Abstract(s) sent by mail or fax will not be processed by the Secretariat and will not be forwarded to the Scientific Committee for review.
All abstracts submitted will be automatically edited according to the submission format. It is authors' responsibility to review and correct the submissions. Submitters are responsible for every typing error on the abstract.
Please do not submit multiple copies of the same abstract.
Presenting authors are encouraged to submit the abstract.
Abstracts Process
After submitting the abstract online, you should receive a confirmation letter via E-mail. All submitting authors are asked to make sure that the abstracts are successfully submitted. Please contact us if no confirmation letter is received.
Notification of abstract acceptance will be made to submitting authors via E-mail.
Authors Registration (Deadline: 11 February, 2017 - > February 28, 2017)
Authors are asked to make pre-registration for the secretariat to arrange presentation schedule accurately.
In case of intending to make on-site registration, informing by email in advance is required.
Not registered author's paper will be withdrawn by the committee after the registration deadline.

Oral & Poster Presentation Guidelines
Oral presentation
Slides format
MS Powerpoint (Ver. 2003 – latest)
Recommended format is the MS Powerpoint. Speakers are advised to bring MS powerpoint slides with USB key rather than MAC Laptop because of its short and limited time: Setting up with MAC laptop may take 2-3 minutes.

Presentations should be on a using memory stick as removable storage media. It is recommended that presentations be reviewed in the preview room sufficiently prior to the oral presentation session so that software version and compatibility issues can be determined at that time. Note that including audio or video content in your PowerPoint presentation involves using links to external media files which may not work after the files are moved to the presentation computer. Sometimes these links need to be updated after you move the files due to differences in the way that differently configured computers identify the drive or USB device where the external files are located. Any PowerPoint presentation which includes links to external audio or video files needs to be tested in advance on the computer used for the presentation


Preview Room
Authors must check into the speaker's preview room at least 1 hour before their presentation to polish up / upload their presentation slides.
Location: TBD.


Oral Presentation Schedule

Final Abstract List
Poster Presentations
Size of poster panel: 100 cm (width) x 210 cm (height)
Size: 80cm x 120cm (Vertical Format)
Session Date: TBD
Mounting: TBD
Detaching: TBD
Presenters will be provided with scotch tape, velcro, and push pins to attach their posters onto the boards.
The Committee does not assume any responsibility for material displayed on the poster boards. Nobody will be held responsible for posters not collected at the end of the congress.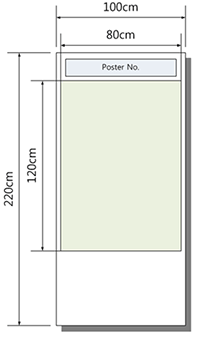 Speaker's Preview Room
Preview Room Work Hours: During the meeting
Checking slide-deck(s) at the speaker's preview room is the single most important action you will take to ensure your presentation is a success. It is required to check into the place at least 1 hour before presentation start time.
Authors should make sure all fonts appear as expected and all sound/video clips are working properly while reviewing presentation slides.
Note: It is possible to bring your slides onto either USB stick or own laptop having RGB port.
| Method | USB Stick | Own Laptop |
| --- | --- | --- |
| Format | MS Powerpoint only | Not limited |
| Cable | Not necessary | RGB cable |
Equipment & Software at the Preview Room
Laptops
OS: MS Windows 7
Software: MS office 2010 / Adobe PDF viewer
Cables
'Mac – RGB' cable
**This is only for authors presenting with their own laptop 'MAC' missing their own cable.

Travel Grant
The KSSMN offers travel grants to support researchers who want to take part in the conference with gaining experience – abstract submission. The scientific program committee will select recipients for 'Travel grant' among outstanding abstract submissions.